Choosing a prenatal vitamin is a daunting task. With so many choices on the shelves that offer incentives like "+folic acid" or "+DHA," you don't really know what to pick. Well, guess what - most prenatal vitamins don't even give you the benefits they claim, let alone actually need!
Some of the links on this page are affiliate links. I appreciate your support!
The Best Way to Get Nutrients
The BEST way to get the nutrients you and baby need is to eat a balanced diet of REAL food. By real food we're talking about the food that lines the perimeter of the grocery store: meats, fish, fruit, vegetables, dairy products, eggs, etc.
- Problems with Diet Alone
-- The average American diet lacks fruit and vegetables.
-- Some foods you just don't like.
-- You may have food allergies or aversions, especially during pregnancy.
-- Some nutrients come in small amounts and to get your necessary intake you'd have to overeat.
-- Nutrient needs increase in pregnancy, meaning you're less likely to get what you need through diet alone.
- Solution
The help of a quality prenatal vitamin is necessary to get the nutrients you need while your body prioritizes growing a new human.
Differences in Prenatal Vitamins
Not all vitamins are created equal - nutrients, nutrient amounts and nutrient quality all vary.
- Problem 1 - Outdated Recommendations
In 2016 (the most recent action taken and published) the Food & Drug Administration (FDA) determined that the nutrient needs for pregnant women and lactating women are the same as the general population (pg 722). They came to this conclusion because no evidence was submitted to them to prove otherwise when as they revised the regulation for nutrition and supplement fact labels.
What their recommendations say is that pregnant women don't have additional nutritional needs in comparison to every other adult.
They don't......?
The only exception was the protein requirement which the FDA increased by 11 grams to match the Institute of Medicine's recommendation. Before this increase in the 2016 update, the FDA's recommendation for protein and all other nutrients for pregnant women and lactating women was based on a 1989 recommendation (pg 725)!
That's 27 years of outdated research!
That recommendation came from the Food & Nutrition Board who determines recommended dietary allowances (RDAs).
In 2003, the Committee on Use of Dietary Reference Intakes in Nutrition Labeling was established to update nutrient recommendations based on updated research and more accurate calculations.
Their recommendations for pregnant women and lactating women were almost identical to the 1989 recommendations, and at this point are two decades old.
Why is this a problem?
1. Because prenatal vitamin manufacturers base their percentages on these recommendations that say pregnant women don't have additional nutritional needs.
2. The FDA stated that their recommendations for daily nutrition are set at levels to prevent severe deficiency. So, they're not ideal recommendations for optimal health; they're more like bare minimum requirements. That explains why updated research has found multiple deficiencies in mothers' diets.
3. Because updated research is available as of 2018 that calls for increased nutritional needs in pregnancy. It also highlights that certain nutrients are common deficiencies in pregnant women.
So what are the differences between bare minimum and optimal?
The chart below shows the differences in recommendations.
Some nutrients were unavailable on both sides.
The yellow cells highlight the higher recommendation, and the blue cells are nutrients that are commonly deficient in pregnant women.
Keep in mind that even though the FDA's recommendations are dated 2016, they are based on data from 2003 and earlier.
- Problem 2 - Misleading Claims
Just because it says 100% doesn't mean you're getting 100%.
Vitamins and minerals in food are natural but most of the vitamins and minerals in supplements are synthetic, and that changes the way your body absorbs them.
One example is folate and its synthetic form, folic acid.
It's estimated that up to 60% of people don't absorb folic acid as well as folate due to genetics.
Because of this, it's important that your prenatal says "activate B vitamins."
Bonus Info
Did you know you're looking at two different nutrition fact labels?
The majority of nutrition labels list their nutrients as they fall in the generic 2000 calorie a day diet.
But for foods and supplements meant specifically for pregnant women and lactating women, the FDA mandates that their nutrients be listed as they fall in the recommended daily values for pregnant women.
You'll see that the vitamins recommended below have amounts far above 100% for most nutrients.
- Problem 3 - Made for Convenience
Most prenatals come in the form of one pill that you take once a day.
Why?
Because it's a hassle to take multiple pills.
But the truth is that something is always sacrificed in convenience, and in this case, it's either quality, purity or potency.
Fitting all vitamins and minerals you need into one swallow-able pill just isn't possible, so manufacturers use lesser amounts or leave them out altogether.
That means if you want the best chance at getting what you're missing in diet, or if you want to be sure you're getting quality, you're going to have to take more than one pill a day.
The Best Prenatal Vitamins - Top 3
These vitamins out-perform other vitamins because:
1. they don't compromise quality for convenience.
2. they're formulated based on more recent research.
3. they're third party tested.
#1 Full Well Fertility
The BEST prenatal available - most trusted.
Rated #1 based on:
- nutrient quality and quantity
- company values and transparency
- education available to customers
Full Well Fertility (<---that link gets you 15% off) was created by a women's health specialist and registered dietitian. It follows the updated research referenced above for optimal nutrient intake for pregnancy.
The nutrients that Full Well seems to be low in are low by design, because those nutrients are easily found in the diet. You can read more on their FAQ page.
I've followed the founder for a few years, before I knew she was formulating a prenatal vitamin, and I can tell you that she is passionate about women's health, grounded in evidence-based research, and upholds standards of quality and integrity in all related businesses.
#2 Optimal Prenatal
A protein powder prenatal vitamin.
Rated #2 based on
- nutrient quantity and quality
- different forms available
- customer reviews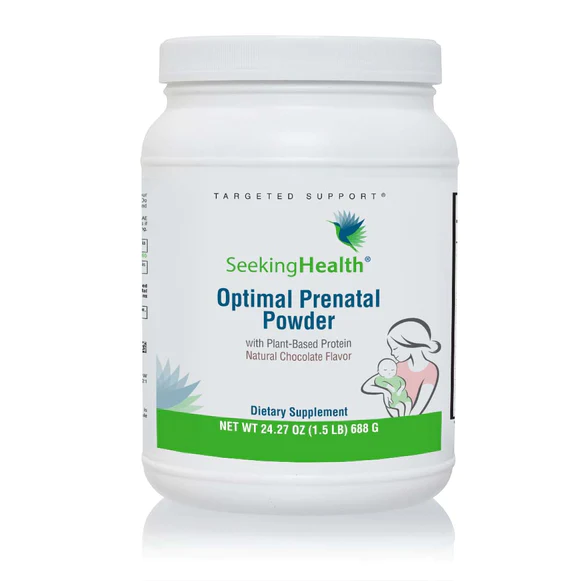 If you have trouble swallowing pills, Seeking Health has made their Optimal prenatal vitamin into a protein powder. That's a double win for gestational diabetics.
Chocolate and vanilla flavors are available, and they have great reviews. Prenatal capsules and tablets are also available.
Seeking Health is a reputable company with high quality supplements and a prenatal line that follows evidence-based research.
#3 Smarty Pants
Prenatal gummies.
Rated #3 based on
- nutrient quantity and quality
- gummy form
- company values and transparency
- offers an organic/vegetarian formula as well
If you're vegetarian or don't like the idea of a pill or protein powder, Smarty Pants is your prenatal. They're a leader in multivitamins, and the only company of the three listed here to offer a gummy, organic, or vegetarian prenatal.